9 outdoor playhouses that kids will play in for hours and hours
It's a scaled down space that's just for them! What could be better?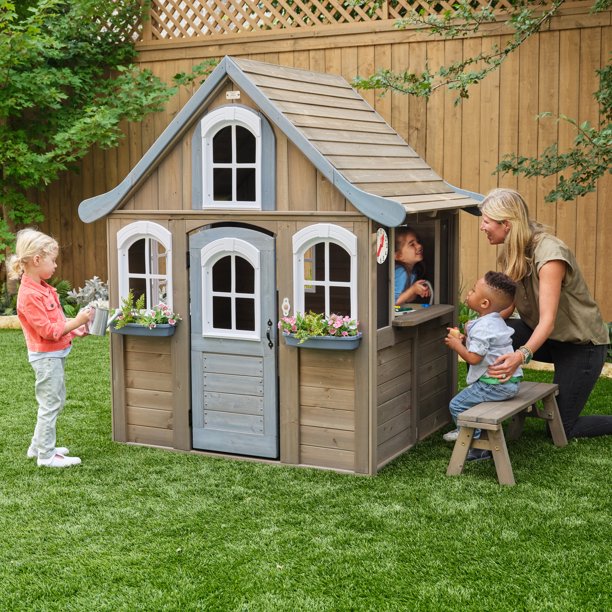 We independently select and share the products we love—and may receive a commission if you choose to buy.
There are a lot of toys that spark imagination–but one that brings every kid running like a moth to a flame? A kids' outdoor playhouse.
Playhouses provide toddlers and even older kids endless opportunities to act out all their day-to-day activities along with playing the roles they love so much: mom, dad, firefighter, chef, cat groomer, you name it. (Though maybe make sure they don't actually take the cat in there for a beauty session. That could end poorly.) It's a scaled-down space that's just for them! What could be better?
Is an outdoor playhouse worth it?
Of course, compared to other toy investments, play houses are definitely on the pricey end of the spectrum. But if you consider that many of the more expensive models can double as a kitchen set, it's a little more digestible. Also, in my personal experience they're the perfect opportunity to catch some quiet time in the sun. Sorry, kids! Can't fit. Looks like I'll be right here sipping this coffee while you make "lunch."
How do you choose the right outdoor playhouse for kids?
When it comes to choosing the right outdoor playhouse for kids, there are a few things to consider. If you live in a cold climate, you may want to choose something that can be brought inside when the weather turns. Some wooden models will benefit from an annual water sealant, and many will last years with just a bit of upkeep. Also, be sure to check the weight on whatever you choose and if it's possible to anchor down. The last thing anyone needs is to look out the window in a storm and seeing a real life version of the Wizard of Oz.
Related: 9 backyard sandboxes that will keep kids busy all summer long
From durable plastic models that are easy to clean and move to stylish wooden mini houses that cost more but last a long time, we've rounded up some of the most highly-rated kids' outdoor playhouses that will keep kids engaged for hours and hours.
(Too cold or not enough room? Check out these indoor playhouses instead!)
A version of this story was published May 10, 2022. It has been updated.