What should your baby wear today? Use this temperature guide to decide
Now all you need to do is check the forecast.
We independently select and share the products we love—and may receive a commission if you choose to buy.
Too hot. Too cold. Just right. Like Goldilocks, little ones can be quite particular about the outside temperature since their bodies aren't able to regulate internal temperatures as well as adults. According to the American Academy of Pediatrics, "Because of their unique physiology, children are more susceptible to temperature extremes and their health effects."
For that reason, there are simply some extreme conditions when it isn't safe for your baby to spend time outside: With extreme heat, dehydration, fatigue and headaches are possible. With very low temperatures, hypothermia is a bigger threat to young children than it is to adults.
Related: 4 baby clothes must-haves for their (perfectly adorable) wardrobe
The good news? That's in extreme conditions. Most of the time, it's just about knowing how to dress your baby for cold weather or hot weather or any weather in between. And for the most part, that just means the right amount of layering to keep baby comfortable.
"The general rule of thumb is that your baby should be dressed in one more layer than you feel comfortable in," said Diana Spalding, CNM. "If you are happy with one long-sleeve shirt, your baby should probably have a long-sleeve onesie, plus another shirt or light jacket on top."
Still, even knowing how to dress yourself can feel complicated sometimes.
We created a handy cheat sheet for how to dress your baby based on outside temperature.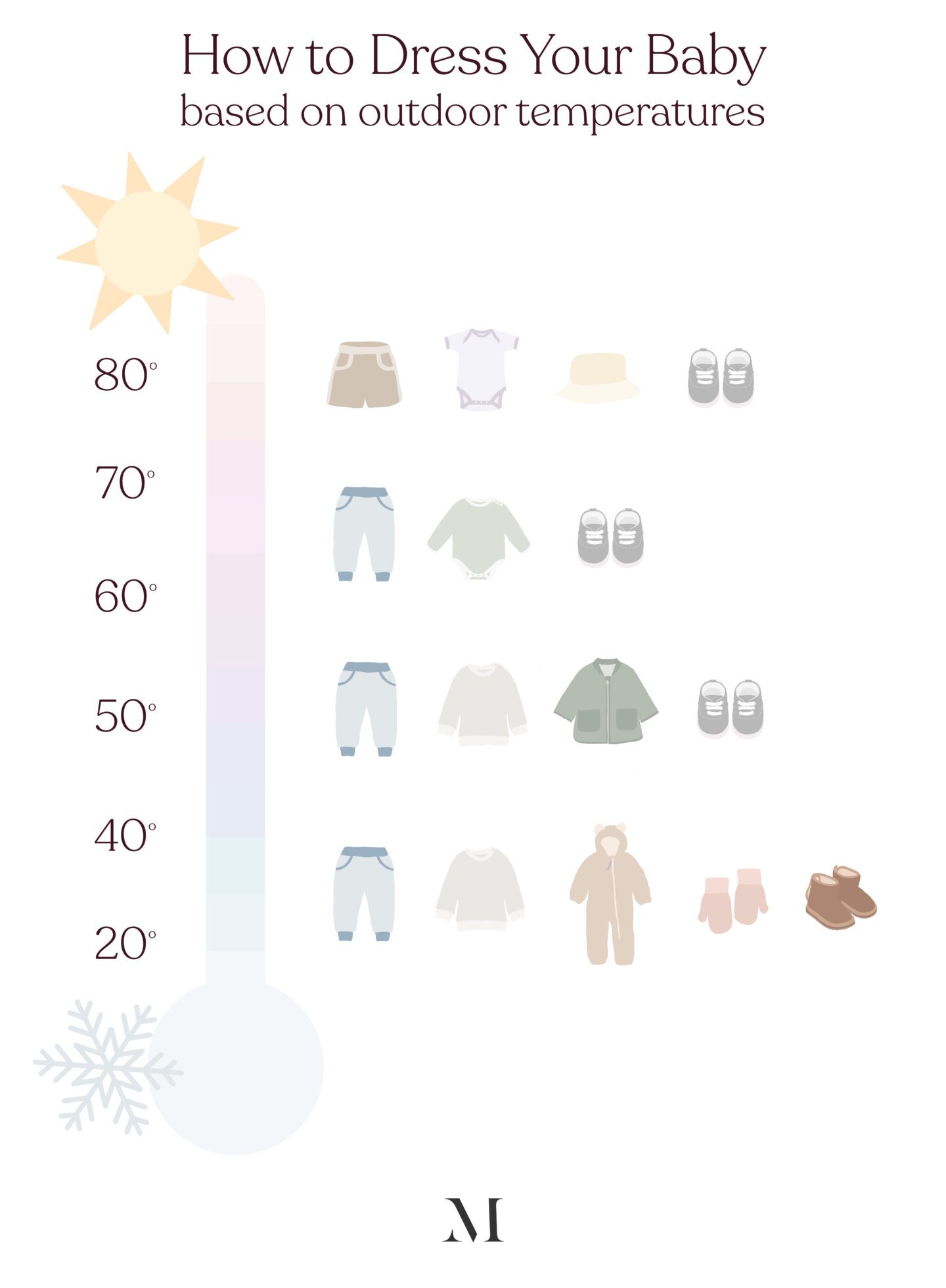 Keep in mind that other factors can affect your comfort outside, such as humidity, windchill and the sun. When in doubt, dress your baby in layers that you can easily add to or shed!
For expectant parents, it also helps to plan ahead to know what types of clothes to buy in what sizes based on how old your baby will be during winter, spring, summer or fall. Here are some of our favorite layers to add to your baby registry!
How to dress your baby based on the outside temperature
Get more expert advice and curated collections in Motherly's Essential Registry Guide.
A version of this article was published April 14, 2022. It has been updated.